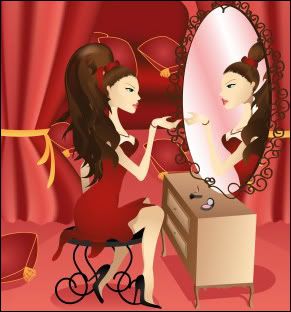 I can't even begin to tell you how much BDing there has been this month! And the best part is that it wasn't forced due to O symptoms or positive OPKs; nope it was just.......... for FUN! It's really hard to believe how relaxed I've been this cycle. I don't even have a clue when I would have O'd or if I even did. I ignored all symptoms and I didn't even look for CM signs. I feel like a whole new me!
Another funny thing is that we started trying to plan a vacation in September or October. We have been thinking about taking a cruise to some where beachy and our options are very open as prices are so low right now. We found nearly 10 different cruise itineraries that we could choose from all leaving around the same time frame. The only catch……..well you can't take a cruise unless your less than 24 weeks. In a way it has really given me something positive to look forward to if we don't get pregnant in the next few months. If the months of April and May do not bring us a BFP we will be booking our trip. It puts a positive spin on a negative result. I think this makes it a little easier to except. And I'm truly feeling like I could deal with seeing reoccurring BFN's for now. I'm more focused on getting back in shape, eating right, various home projects, working on a tan, and simply being normal again……….. I haven't felt normal since the miscarriage.
It's like A NEW person is looking back at me in the mirror.....