We spent our first night in our new home on Saturday. It was strange……I guess it will take some time until it really feels like home. Hubby says it feels like he's staying at an aunt's house or something and I kind of feel the same. All our stuff is half way unpacked and involves a lot of searching if you need something, but eventually we will be fully settled in and I'm sure it will be great.
Today we removed all the carpeting in the downstairs bonus room. It took us about 4 hours and was pretty sweaty intense work. We had to scrape off areas where the carpet was glued down and use a pry bar to remove all the tack strips that held the carpet in place. Now the floor is just a bare slab of concrete! We can't wait to shop for new flooring……it should be really fun. We still have plenty more work to do before that though. The next step is to remove all the trim work from the walls and then we need to smooth out the wall surface. Currently there is a textured paint application that we are just not very fond off. The room should be beautiful once we are done though.
Here's a BEFORE photo. Notice the hideous carpet! Next to go is the ugly wood trim!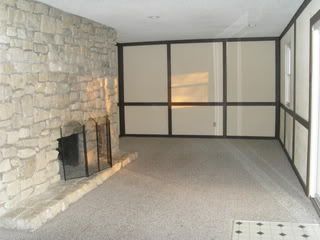 Here's the AFTER photo. We now have a nice concrete slab for a floor.....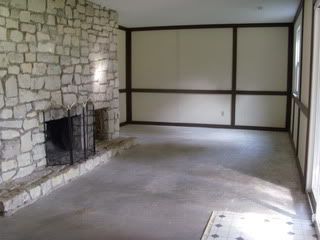 We were so excited that our little dog Roxy would have her very own yard to play in. We put her outside while we were ripping up the flooring and wouldn't you know it? She was begging to get back in! Apparently she's an indoor dog! Oh well. She is still trying to figure out why we are in a new place. She is constantly smelling around the house and doing some exploring here and there.
On the TTC front we are still planning on waiting until at least September. I sure the time will fly by though. Oh and AF…..who knows what's going on it seems I have 3 days of spotting then a week off. It's been like this for 4 weeks now! I'm currently spotting right now…….who knows?
This Friday my FIL will be coming to visit us. Oddly he scheduled a trip out here to help us move so that I wouldn't have to do any heavy lifting during the pregnancy. And well a few days after he purchased his plane ticket I had the surgery to terminate the pregnancy. It's all kind of bittersweet I guess. We are excited to have family come see us anytime but yet it reminds me of why the trip was ever planned. When he booked the flight I think both hubby and I had made a comment about the awkwardness of losing the baby and now we just have to endure it.
And lastly, Thursday is my BIRTHDAY! I can't believe it's already here! I will be turning 27 and it all seems kind of weird…..we don't have any plans and hubby already bought me a gift (tickets to Jack Johnson next month) so it should just be a mellow and otherwise boring kind of day.