You ROCK! Today when I came home from a small shopping trip I found a box waiting for me on my doorstep. What could it be?
Oh just a show of love from my awesome Secret Pal. Check it out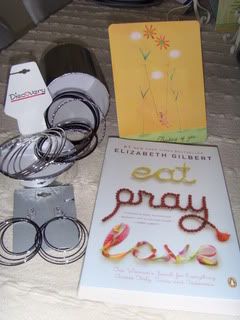 It's perfect! It seriously made my day. My hubby immediately wanted me to put the earrings on.....he thinks big hoops are sexy. I could use a little sexiness in my life right now! LOL
I love reading travel memoirs......it's a serious hobby of mine! So I love that you picked me up Eat Pray Love
Summer reading here I come!
Thank you, Thank you who every you are! You ROCK!