I love Jack Johnson!
I can pretty much never get tired of listening to him. But let me set the scene for you on October 21st 2007. It was a drizzling day in Seattle and the fall leaves were in full color. Bright oranges, yellows, and reds. It was around 7 am and I was finishing up my hair and makeup getting ready to slip on my beautiful white dress. YES ! It's my wedding day………
Our Wedding day was a long day in the making because Zack and I first met in the 7th grade……….We shared so many childhood memories together and experienced some of our most memorable moments in life together. Hanging out in our classes, same teachers, same friends, after-school clubs, sporting events, parties, Prom, graduation and college. So it was only fitting that after sharing 12 years together that we finally tied the knot.
Zack and I planned to meet each other at 9 am on the campus of the University of Washington with the photographer and our families for formal photos. I was so excited and nervous because I was hoping the rain would not begin to pick up while we were outside and exposed.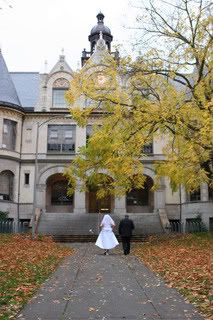 We spent an hour getting our photos taken and wouldn't you know during the last few shots the rain began to pour. It was almost cinematic how our timing could not have been planned better. And now it was time to walk down the aisle with my one true love…….
Our wedding venue was called The Lakeside and located on Lake Union and directly across the lake was a view of the city and all its beautiful buildings. If you've ever seen Sleepless in Seattle then you would recognize all the little floating homes perched nearby. Our ceremony was to take place out on the boat dock under a white tent to shelter us from the rain that made a soft muffled pitter patter sound as it fell down on it.
As our guests arrived they were greeted with Seattle coffee……..of course and little pastries too, and as they seated themselves they heard the sweet sounds of Jack Johnson. Songs like;
Better Together
Banana Pancakes
Do You Remember
Bubble Toes
I walked down the aisle beside my Dad…………
And when the ceremony finished Zack and I celebrated and walked down the aisle together to the tune of this song……….
We went on to have a beautiful wedding and I'll always remember how Jack Johnson was a part of our day.
6 months later we went to Hawaii and we got to see the neighborhood he grew up in and the school he attended and wouldn't you know it that same weekend we were there he was performing in Hawaii. We wanted so desperately to go but unfortunately we were in Hawaii for a wedding and couldn't break away.