Thank you for all the wonderful support and the many fingers that were crossed for us while trying to purchase a home. I THINK IT WORKED! The bank accepted our offer! And the home inspection was PERFECT! We found a real gem of a home……..and it sounds like it's all ours so long as the loan goes through smoothly. And guess what ??? The closing date is on May 28th! That's just a mere 30 days away! Both hubby and I are ecstatic!! We've already discussed the changes we want to make to make it our own.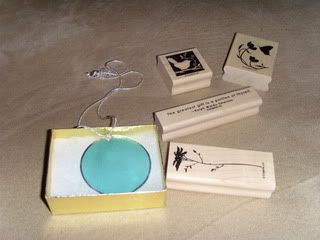 I want to send a great big ((HUG)) and thank you to my dear secret pal for the month of April. She sent me a delightful little stamp set and this adorable necklace in my favorite color nonetheless….turquoise!! THANK YOU THANK YOU! I LOVE IT! That was really very sweet and thoughtful. I sent my Secret pal a little package too….I hope it arrives to her safely soon…….
On the TTC front I'm at a standstill…..I thought for sure AF would have visited me over the weekend but she never did show. Tomorrow makes it CD31……which is not totally wacky…..BUT last month's cycle was 28 days and the one before that was 30 days.
So……Go figure that when DH and I are getting ready to hop back on the TTC wagon my AF decides to play games! The thing is my breasts have been sore and I was sure that meant AF but I'll wait a little longer and see what happens. Like I said she is a trickster! Oh and this sometimes happens but this is the first time it's really bothered me. My nipples are dry and chapped! Ouch they hurt so bad! I think this has something to do with allergy season because I always seem to get chapped nipples at least once a year. I've been trying to apply moisturizer to them but it only relieves it for a little while. If any of you can relate please share your remedy??
Hope everyone is having a wonderful start to their week.